First of all, a Very Happy New Year to all of you from Sivin Communications.
The 1st of January always marks a moment for reflection, and as I look back on 2017, I can be nothing else than proud of the advances we have made, the projects we have done, the opportunities I have been given and the prospects we are having. In case you have missed any of the highlights from the past year: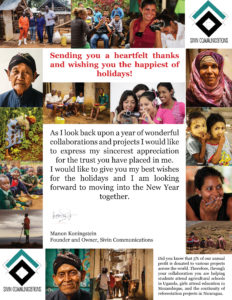 We made a wonderful 360 degree movie for the International Livestock Research Institute (ILRI) that you can read all about here
We also made a whiteboard animated movie explaining their mNutrition project
We made whiteboard animated videos on the 9 lessons for scaling up Climate-Smart Agriculture for the International Center for Tropical Agriculture (CIAT) and the CGIAR Climate Change, Agriculture & Food Security (CCAFS) that are published on their website
We worked on digital communications and social media outreach and strategies with Emerging ag, read about it here
We participated in a webinar organised by the Global Forum on Agricultural Research (GFAR) on Participatory Video, that you can read about here and listen to here
We created a new website and communications and social media outreach products for CRECE
Manon Koningstein has worked with the Gender team for the CGIAR Research Program on Forests, Trees and Agroforestry (FTA) and collaborated with the narrative and edits of this video, the contents and lay-out for the website, amongst other 
Manon Koningstein has worked with the the Center for International Forestry Research on Communication for the Gender and Natural Resource Management Research team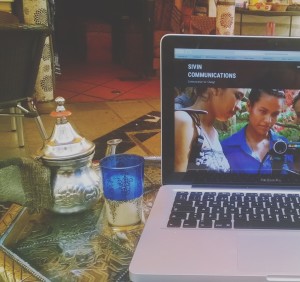 We have worked together with InsightShare on Participatory Video and Design Thinking in the Colombian Nariño, you can read all about that here and watch the final video
We made some whiteboard animated videos for GeoCitizen and the Austrian BurgerCockpit Initiative.
And Manon Koningstein gave an interview on the Dutch radio what it is like to work and travel internationally.
It has been a year in which I have felt so much trust and enthusiasm from my clients, met many new people, learnt about great initiatives, felt inspired and challenged and above all.. I am so motivated to see what will come along in 2018! I hope you will be part of it! Feel free to reach out to me if you would like to learn more about what we are doing and in what way we can participate at sivincommunications@gmail.com or manonkoningstein@gmail.com